Lady & the Tramp #4: "Of course not, Miss Lady. Why, everybody knows a dog's best friend is his human."
Title thanks to Rainstorm Jenny
The Story:
Lady and the Tramp is a story of two dogs from different sides of the track. Lady enjoys a happy life with her family while Tramp lives life of the edge with his fellow strays. Lady's life changes when her owners Jim and Darling start a family. Lady is left with Tramp's warning "when the baby moves in, the dog moves out". However, Lady soon bonds with the baby. But when Aunt Sarah comes to look after the baby, Lady clashes with the Siamese cats leading to Aunt Sarah fitting Lady with a muzzle. A terrified Lady flees the house where Tramp rescues Lady from some street dogs. Lady and Tramp spend time together leading to a romantic candlelit dinner and a night on a hilltop in the park. Lady and Tramp are caught by the dog catcher and while at the pound, Lady hears rumours of Tramp's various girlfriends. Lady is collected by Aunt Sarah and then chained to the doghouse in the backyard.
Lady sees a rat entering the house with the intention of hurting the baby, Lady barks but she was unable to break free, Tramp returns and manages to rescue the baby from the rat, however he knocks over the crib in the process angering Aunt Sarah. Lady is locked in the basement while Tramp is taken to the pound.
Jim and Darling return and Lady leads them to the rat proving their innocence, Jock and Trusty chase after the Dogcatcher's wagon. Lady is reunited with Tramp, but Trusty is injured in the struggle.
The film ends at Christmas time, Tramp is part of the family and he is raising four puppies with Lady.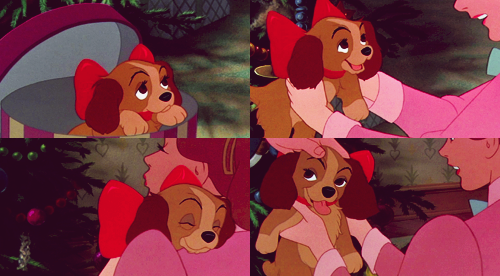 Release Date: June 22, 1955
Starring:
Lady- Barabara Luddy
Tramp- Larry Roberts
Jock/Joe/Bulldog/Dachsie/Policeman- Bill Thompson
Trusty- Bill Baucom
Tony- George Givot
Darling/Si/Am/Peg- Peggy Lee
Aunt Sarah- Verna Felton
The Beaver- Stan Freberg
Boris- Alan Reed
Al the Alligator- Thurl Ravenscroft
Toughy/Pedro/Professor/Hyena- Dallas McKennon
Jim Dear/Dogcatcher- Lee Miller
The History and Awards:
The story was originally an idea from Joe Grant and this was worked on in the Late 1930's and early 1940's, however, the film was not ready until 1955 after many changes.
1956- BAFTA- Best Animated Film (Nominated)
1956- David di Donatello Awards- Best Foreign Producer (Won)
2006- Satellite Awards- Best Youth DVD (Nominated)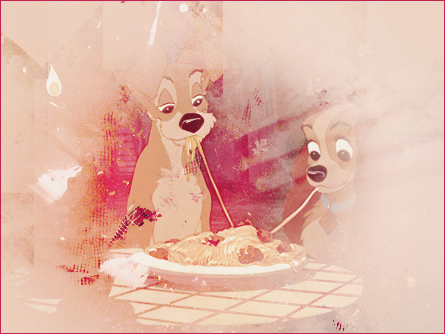 The Soundtrack:
Main Title (Bella Notte) / The Wag of a Dog's Tail
Peace on Earth (Silent Night)
It Has a Ribbon / Lady to Bed / A Few Mornings Later
Sunday / The Rat / Morning Paper
New Collar/Jock and Trusty/It's Jim Dear
What a Day! /Breakfast at Tony's
Warning/Breakout/Snob Hill/A Wee Bairn
Countdown to B-Day
Baby's First Morning/What Is a Baby/La la Lu
Going Away/Aunt Sarah
The Siamese Cat Song/What's Going on Down There
The Muzzle/Wrong Side of the Tracks
You Poor Kid/He's Not My Dog
Through the Zoo/A Log Puller
Footloose and Collar-Free/Bella Notte
It's Morning/Ever Chase Chickens/Caught
Home Sweet Home
The Pound
What a Dog/He's a Tramp
In the Doghouse/The Rat Returns/Falsely Accused/We've Got to Stop Tha
Quotes:
Lady: What's a... baby?
Jock: Well, they... they resemble humans.
Trusty: But I'd say a mite smaller.
Jock: Aye, and they walk on all fours.
Trusty: And if I remember correctly... they beller a lot.
Jock: Aye, and they're very expensive. You'll no be permitted to play wi' it.
Trusty: But they're mighty sweet.
Jock: And very very soft.
Tramp: Just a cute little bundle... of trouble!
Jock: 'Tis time you knew the truth, lassie. It shouldn't have happened to a dog, but... well, Trusty has lost his sense of smell.
Lady: [Gasp] No!
Jock: Aye, but we must never let on that we know, lassie. It would break his poor heart.
Lady: ...But when she put that horrible muzzle on me...
Tramp: Say no more, I get the whole picture. Aunts, cats, muzzles... Well, that what comes of tying yourself down to one family.
Lady: Haven't you a family?
Tramp: One for every day of the week. The point is, none of them have me.
Tramp: Not to change the subject, but, um... ever chased chickens?
Lady: I should say not!
Tramp: Oh-ho, then you've never lived!
Lady: But we shouldn't.
Tramp: I know. That's what makes it fun. Aw, come on, kid. Start building some memories.
Si, Am: We are Siamese if you please. We are Siamese if you don't please

Credit
previous threads :
#3 / #2 / #1
Related News: